Back To Latest News
All About Agritourism: Get Educated at One of These Carolina Farms
Posted on 03/04/21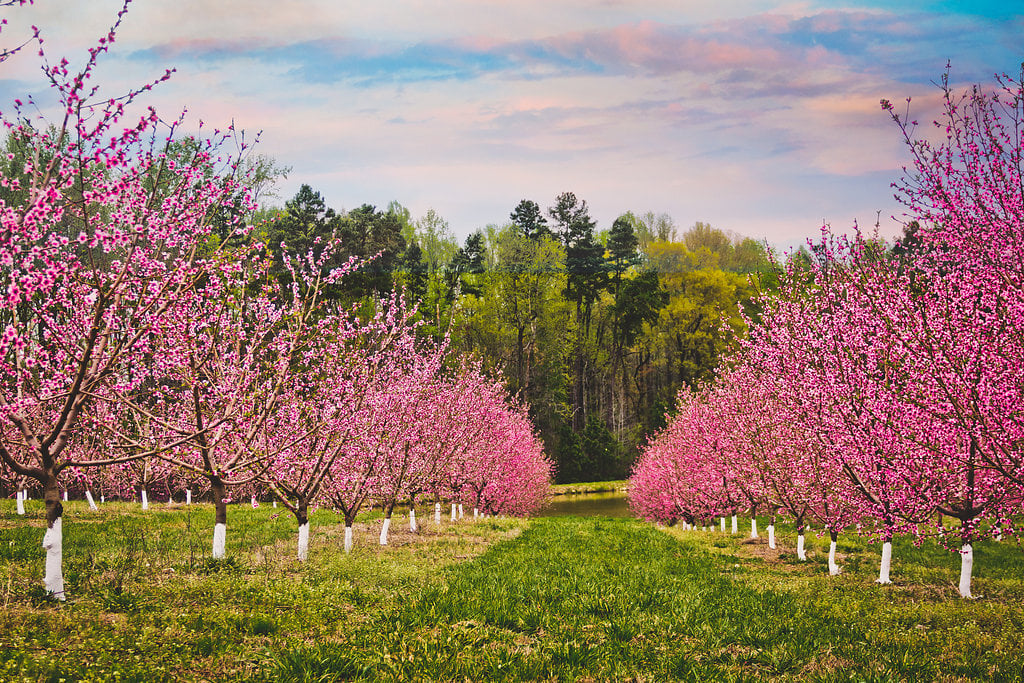 Ever ask your family where the food on the dinner table comes from? If they answer, "the grocery store," it might be time to teach your children about the origin of foods, the processes to make it, and how those items got to the grocery store. "This can be as simple as picking one thing like milk or honey or a favorite fruit or vegetable," says Sandra Coffman from Split Creek Goat Farm in Anderson, South Carolina, "and then visiting a farm to gain a better understanding of what it takes to 'make' those products."
Agritourism—or the act of visiting a working farm or any agricultural business to get educated or involved— shows your children where food comes from and supports the local farmers too. Here are some farms in the Carolinas to plan your next family trip:
Emerald Farms, Greenwood, SC
Visit this working dairy farm is open Tuesday through Saturday, 9 a.m.-5 p.m. Pet baby goats, wander with peacocks, walk through the herb garden, and learn about honeybees. Purchase handmade goat milk products at the onsite health food store.
Hickory Hill Milk, Edgefield, SC
Take a two-hour behind-the-scenes tour to learn how milk is made at this fourth-generation dairy farm. Schedule a tour (minimum of 10 people) through Jamie Pearson, (803) 480-3312.
Special events: Fall Farm Nights in October
Hunter Farm, Weddington, NC
Choose the best strawberries from the expansive fields, or rent a space in the community gardens to learn more about farming and growing food.
Millstone Creek Orchards, Ramseur, NC
Head to Millstone Creek Orchards to pick your own apples, blackberries, blueberries, grapes, peaches, and more. The farm stand carries items from the farm as well as other local growers.
Special events: Spring Outdoor Market on March 27
Old McCaskill's Farm, Rembert, SC
This is not an interactive farm, but guests are encouraged to look at the sheep and other farm animals and watch the daily chores being completed. The farm store carries meats, cheese, wool yarn, wool blankets from the farm, and other products like goat cheese and honey from area farms. Plan a private tour, stay at the on-site bed and breakfast, or sign up for a canning class.
Special events: 2021 Spring Shearing Day, March 27, 10 a.m.-5 p.m.
Split Creek Goat Farm, Anderson, SC
Take a self-guided tour on Fridays and Saturdays from 10 a.m. – 6 p.m. Get a peek at the kids (baby goats) born in the spring. Check out the goats, chickens, pigs, and rabbits, and visit the farm store for goat cheese, lotions, and lip balms made from goat milk. Take a virtual tour through Goats 4 Goodness, the farm's nonprofit organization.
Wise Acre Organic Farms, Indian Trail, NC
Pick strawberries beginning in April and choose a pumpkin in the fall. Visit with the goats, pigs, chickens, and rabbits and play on the playground. Refuel with a locally-sourced Wise Pie Wood Fired Oven Pizza.
CALL BEFORE YOU GO: Contact each farm ahead of time to ask about the most up-to-date operating hours, procedures, and COVID guidelines.
KNOW BEFORE YOU GO
Beverly I. Mooney, owner of Millstone Creek Orchards in Ramseur, North Carolina shares these tips before heading out to a working farm or orchard:
Visit the website and social media sites to confirm hours, events, prices, reservations needed, food, etc. Some farms may only accept cash.
Check the weather prior to your visit.
Wear the right clothes and shoes. Farms can be dusty and muddy.
Bring water, bug spray, sunscreen, and supplies for a picnic, if allowed.
Allow enough travel time to check-in for a reservation.
Follow directions from staff about which animals may be fed or pet.
Read signs with rules or guidelines.
Avoid "no entry" areas because they could be dangerous.
Be a courteous responsible guest while on the working farm: Throw away trash in proper receptacles or take it out. Keep noise to a minimum and only climb and swing on labeled playgrounds.
Find out if it's OK to bring the family dog before doing so. It may be disruptive to the farm animals on the farm.
Resources for a deeper dive